The Chuckegg Creek wildfire rages near the town of High Level, Alberta. (Photo courtesy Lee Filliol via Facebook)
Firefighters, ground crews, air tankers and helicopters have been deployed to battle "out of control" fires in Alberta, Canada, which are now responsible for nearly 314,000 burned acres.
While several days have been spent to create a fire break along the outskirts of High Level, a Northern Alberta town. Current dry and windy weather conditions could cause embers to travel over a kilometer, passing the fire break and threatening High Level still.
The Mayor of High Level, Crystal McAteer, remains hopeful that containment this week will allow residents to return home as early as May 31st. She cautions, however, that the timeline is fluid, depending on the changing conditions. Before evacuees can return, critical services, including hospitals and grocery stores, must be restored - and air quality improved. At present, Alberta air pollution remains at "unhealthy" levels.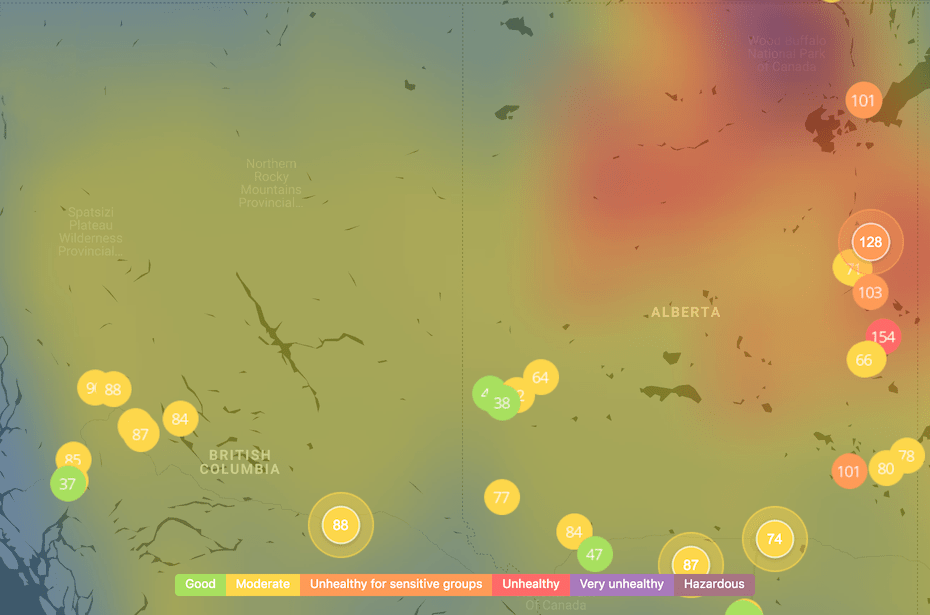 Map of air pollution in Canada as reported by IQAir AirVisual (May 28, 2019, 3:00pm local time)
While on-the-ground forces stay vigilant in extinguishing the fires - environmental expert, Edward Struzik, warns that forest fires such as these are likely the "new normal," urging emergency management crews to start preparing for an increase in these events in the coming years.
Already since the 1970s, the prevalence of wildfires has doubled. Many suspect an increase of people enjoying forested outdoor areas, is a key variable. Struzik explains, "humans cause nearly half the fires in all of Canada." Further exacerbating the problem are warming temperatures which contribute to drier environments.
"We need to look at fire the same way we look at tornadoes and hurricanes. We don't even pretend to think that we can stop them from coming."