WildEarth Guardians, a non-profit environmental organization, has filed a lawsuit against seven Colorado-based oil and gas companies, alleging that their production facility emissions across fifteen sites are in violation of the federal Clean Air Act, and putting Coloradans at risk of breathing harmful Volatile Organic Compounds (VOCs).
While all seven companies involved in the suit did follow Colorado law, it appears they may have taken advantage of a loophole which allows for an unmonitored 90-day period, following the acquisition of a new well. Normally, pollution control devices are required to be installed within that 3-month period, however, the Associated Press has reported that state inspectors rarely follow up, unless complaints are made.
Worrisome is that air pollution emissions are often at their highest during the first 90 days, when wells are being stimulated with hydraulic fracturing, and the production capability of the well is being tested.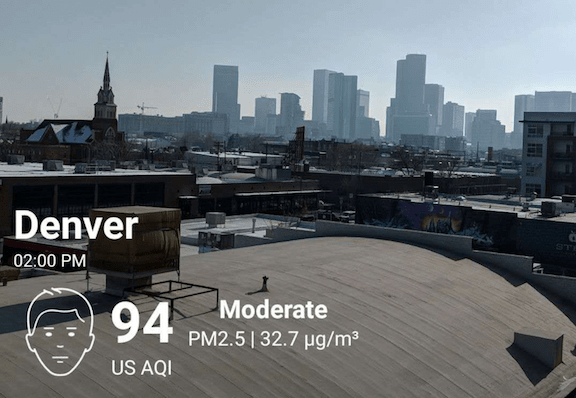 Denver, Colorado air pollution as recorded in April 2019
A former state inspector, Jeremy Murtaugh, who is currently seeking whistle-blower legal protection for his role in exposing the industry, recently went on record with the Denver Post. He claimed, "Polluters are being allowed to operate, to make more profits."
According to Murtaugh, if the state had done its job in enforcing the law, it would have been spared "thousands of tons less volatile organic compound chemicals and other pollutants emitted per year. It could have meant that our area wouldn't be exceeding the federal ozone health standard. … Residents of Colorado would not have been exposed to toxic contaminants such as benzene, toluene, ethylbenzene and xylenes."
Volatile organic compounds, such those being emitted from these oil and gas production facilities, are a major contributor to ground level ozone. According to the federal EPA standards, Colorado is considered a "nonattainment area," meaning that Colorado has not met deadlines to achieve ozone standards.