It is important to follow real-time air quality updates at this time, particularly children, the elderly and people suffering from heart and lung disease can be protected. They are at greater risk from fine particulate matter, which is the primary pollutant in wildfire smoke.
---
The Getty Fire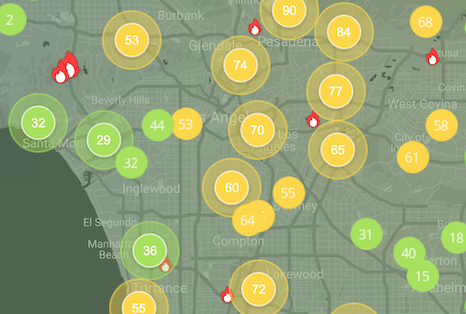 As of Monday at noon (local time), the Getty fire spans more than 600 acres from Topanga to Bel Air.
The Getty fire, which is believed to have started on Sunday at 11:30pm (local time), quickly grew overnight to 600 acres in just 12 hours. The affected area includes affluent Los Angeles neighborhoods of Brentwood and Bel Air. Among the 10,000 homes promptly evacuated Monday morning, are the homes of NBA basketball player Lebron James and Arnold Schwarzenegger.
A crew of more than 1,100 firefighters have helped to extinguish much of the fire, though some areas continue to smolder. As of late Monday afternoon, 5% of the fire was contained.
Details as to how the fire started remain unknown. At a news conference on Monday, Los Angeles Mayor Eric Garcetti announced that an arson investigation is underway.
---
The Kincade fire
The Kincade fire burning in Sonoma County doubled in size Sunday night and now pushes South towards Santa Rosa.
The Kincade fire, burning in Northern California's famous winemaking region, Sonoma County, is the largest active fire in California. It is presently more than 100 times the size of Los Angeles's Getty Fire.
Since the fire ignited on October 23, it has devastated more than 66,000 acres and forced the evacuation of 185,000 local residents.
While the origin of the fire remains under investigation, a broken jumper cable discovered near a Pacific Gas and Electric Company (PG&E) transmission tower points to faulty equipment as a possible cause. A jumper cable carries electrical current.
Strong winds on Monday have caused the Kincade fire to grow significantly in size, and pose a new threat to Santa Rosa, where the majority of the area's population resides.
---
Bay Area fires (Vallejo, Crockett and Grizzly Island Fires)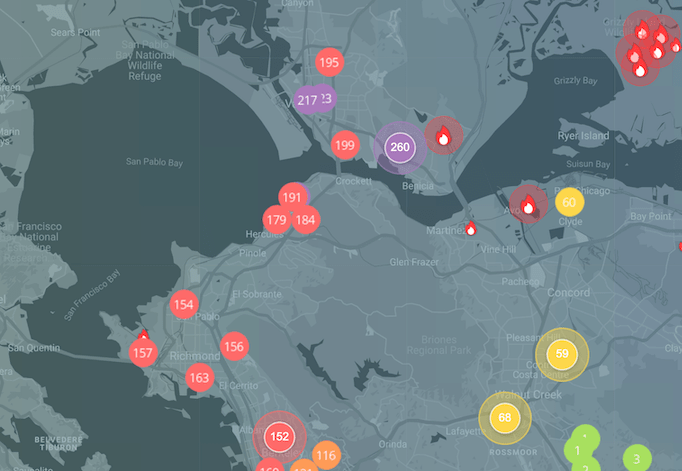 The Vallejo, Crockett and Grizzly Island Fires burning on all sides of Grizzly Bay have contributed to unhealthy pollution across the Bay Area.
A vegetation fire on Grizzly Island burned through 2,000 acres on Sunday. Firefighters said they expected it to continue burning for a number of days, but had stopped it spreading.
The smoke, however, spread to the San Francisco Bay area, where companies such as Facebook and Google and Stanford University are based. The Air Quality Index hit 198 in Palo Alto and 176 in Mountain View during Sunday-to-Monday night. At these unhealthy levels of air quality, everyone may begin to experience some adverse health effects.
In Menlo Park, the AQI reached 214, according to the IQAir AirVisual air quality map, which reports from more than 2,500 government and nongovernment ground-based stations in California.