Air pollution is a silent killer, even in the US where a majority of towns and cities meet WHO guidelines for average annual PM2.5 exposure. Still, 43% of Americans, or roughly 140 million residents, live in counties with unhealthy air, according to the recently published "State of the Air" report.
Since air pollution will almost never appear as the cause of death on a death certificate, but rather contributes to premature mortality through cancer, cardiovascular disease and a large number of other diagnoses, it may come as a surprise that 1 in every 25 Americans will die from noxious outdoor air. While this statistic is markedly better than the global average, it still exceeds the number of US deaths from transportation accidents and gun shootings combined, though rarely catching headlines.
Since the Clean Air Act of 1963, the long-term trend over the last four decades, has shown improved air quality and decreased emissions, even despite growth in population, GDP and energy consumption.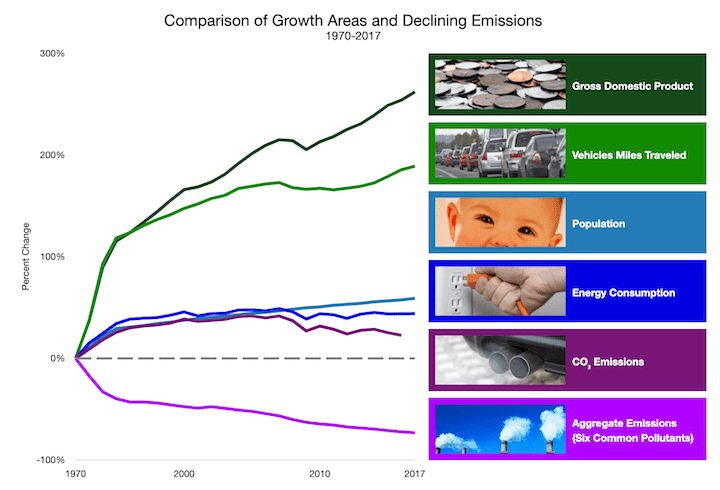 In the 47 year period between 1970 and 2017, the combined emissions of PM2.5, PM10, SO2, NOx, VOCs, CO and Pb dropped by 73%, despite the U.S. economy's continued growth and increased energy consumption. (Credit: US EPA)
This success in reducing aggregate emissions is estimated to have reduced the number of pollution-related deaths by 30% from 1990 to 2010. An impressive feat largely thanks to new innovations and cleaner energy, born from tightened regulation.
Recent federal data, however, reveals this downward trend may be stagnating or even reversing. Both years, 2017 and 2018, saw 15% more polluted days than 2013-2016 combined. While it's too soon to say whether this marks the beginning of a new trend - current Trump administration actions to weaken clean air regulations, raise concerns for health experts.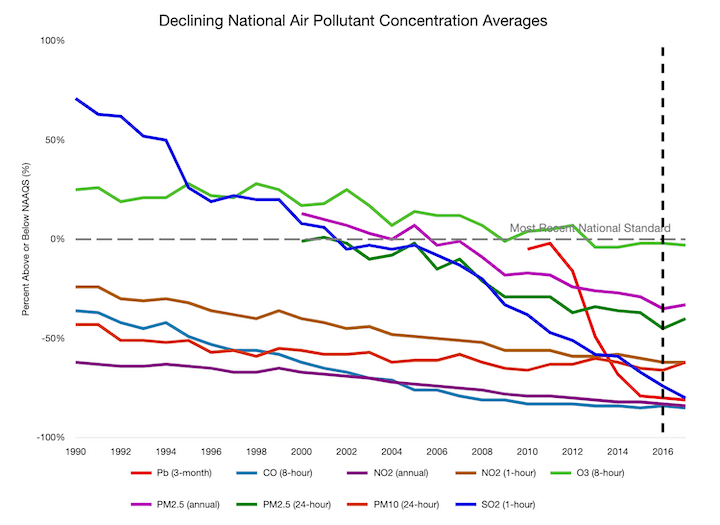 2017 saw off-trend increased levels of PM2.5 and PM10. (Credit: US EPA)
Despite these recent trends, last month (June 2019) President Trump claimed "we have the cleanest air in the world in the United States, and it's gotten better since I'm president." Both statements misrepresent the current situation.
According to EPA data analyzed by The Associated Press, there were significantly more polluted air days in each of the president's first two years in office, then any of the four years before. Moreover, the 2018 World Air Quality Report, ranks the US 9th overall in air quality, with average PM2.5 levels 54% higher than Iceland, seated at the 'true' number 1 spot.
Air pollution experts, and representatives from EPA agree that wildfires had a significant role in increased air pollution levels in a number of US cities. Data from the top 10 most polluted US cities for 2018 (pictured below) help to illustrate this influence on average annual PM2.5 concentration. Other contributing factors are thought to include climate change (increased temperatures increase opportunities for fire and smog), random variation, and increased consumption (related to a strong economy).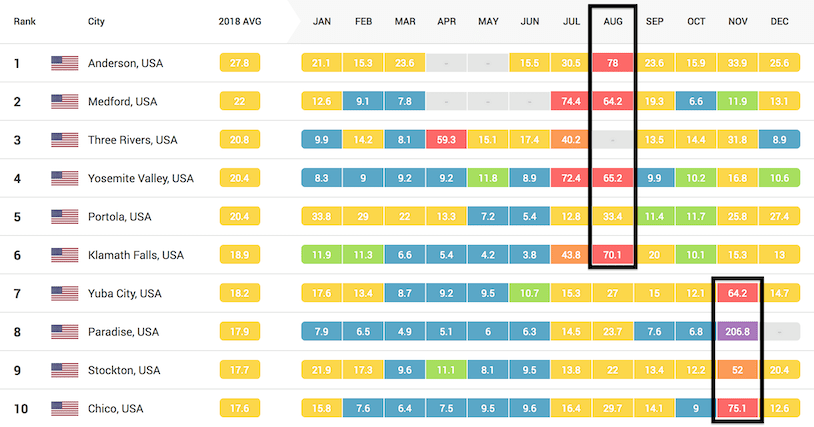 Ranking of the most polluted US cities in 2018 reveal relationship to August and November wildfires.
Scientists say it is still too soon to see the effect of the Trump administration's relaxed clean-air regulations on the environment. Some of these recent changes include relaxed emission controls on oil and gas sites as well as a rollback on fuel efficiency standards for new vehicles, among other policies.
Other non-policy related changes, such as dismissing the 20-member panel of scientists specializing in air pollution which constituted the EPA's Clean Air Scientific Advisory Committee and establishing new committee membership to only include one academic scientist and no epidemiologist - politicizes the historically neutral "scientific" committee, and could have additionally have lasting implications on future regulations and emissions control.