Denise Truong was curious about how much pollution she breathed in on her daily commute to work. So the Ho Chi Minh City resident sat an air quality monitor on her motorbike and started measuring the air.
She zoomed around the city on her automatic Sym Attila Elizabeth, collecting data on levels of PM2.5 – tiny particles in the air that can cause a range of short- and long-term health effects.
In the mornings, she travelled along a wide highway, passing through a tunnel on the way to her office. In the evenings, she rode through smaller and busier streets.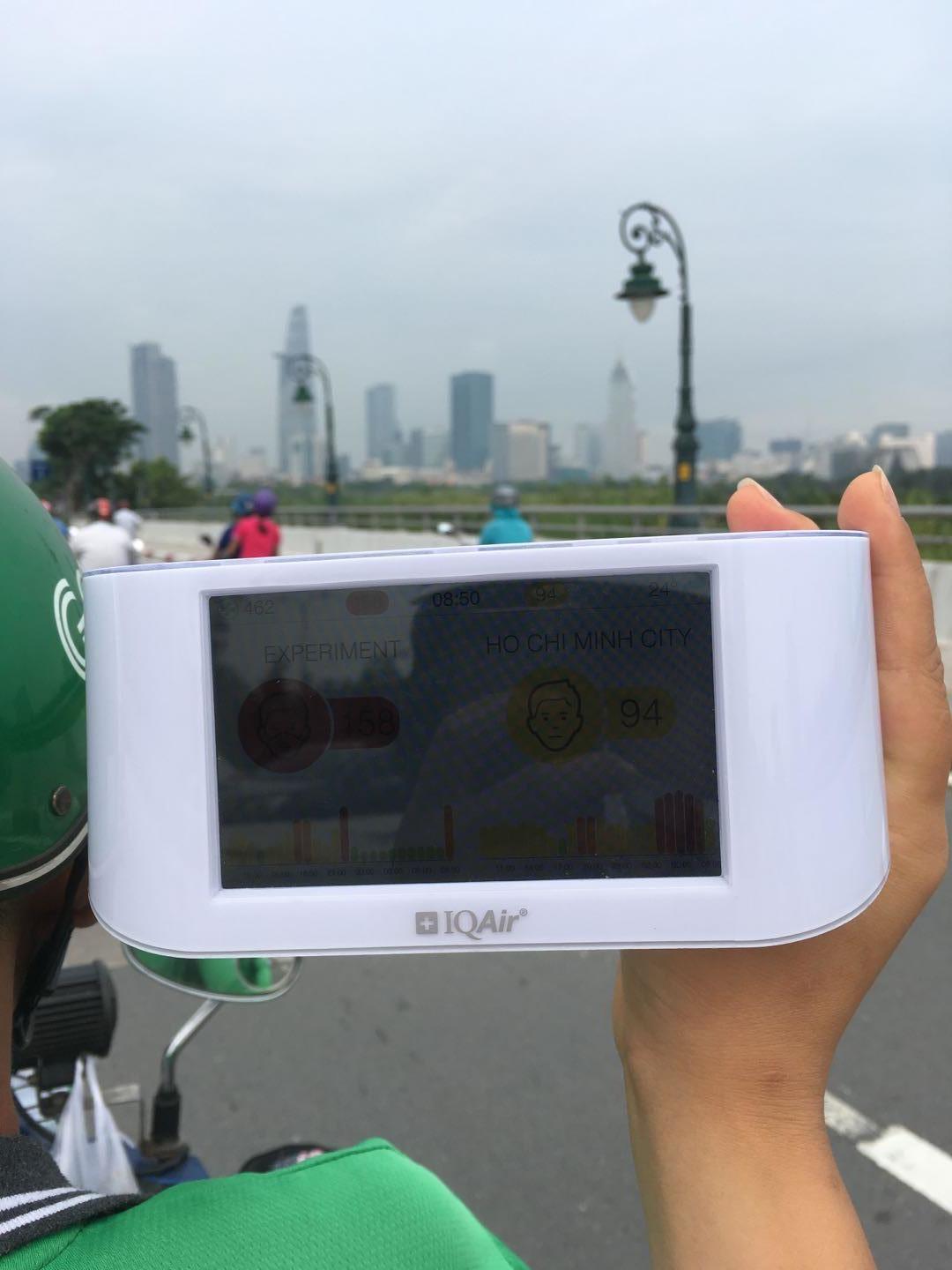 Denise and her bike mate, an IQAir AirVisual Pro, travel around the city testing levels of fine particulate matter
Denise made 25 trips during September and October 2018. The air quality monitor collected data on PM2.5 at 10-second intervals. IQAir AirVisual analyzed the pollution data alongside location data from a GPS tracker installed on Denise's phone.
The experiment found that, while the overall air quality in Ho Chi Minh City was moderate, Denise was breathing in unhealthy levels of air pollution on her bike. Even worse, Denise was exposed to more than 100 micrograms per cubic meter (μg/m3) of PM2.5 on average when riding through traffic lights and tunnels. This extra pollution equates to a U.S. Air Quality Index reading of 174 (Unhealthy) by itself.
Key stats:
The average level of PM2.5 in Ho Chi Minh City as a whole during Denise's 25 trips: 34.6 μg/m3
The average level of PM2.5 recorded on the motorbike: 62.9 μg/m3
In general, Denise was exposed to 28.3 μg/m3 more PM2.5 when riding the bike
Her exposure to PM2.5 increased even further at traffic lights and in tunnels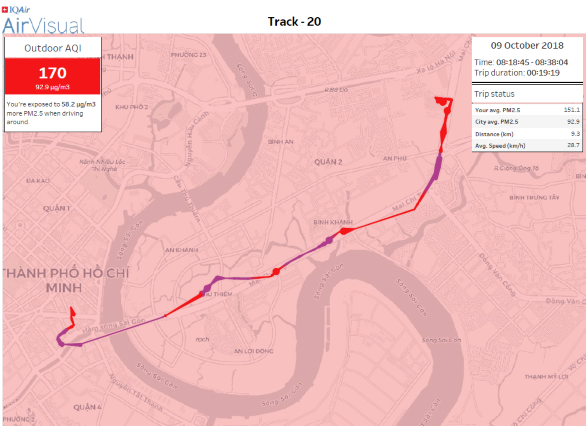 A page from the report analyzing one of Denise's trips around Ho Chi Minh City. On this route she was exposed to 58.2 micrograms per cubic meter of PM2.5 than the city average.
The levels of pollution that Denise was exposed to jumped by 82 percent when she rode her bike. In addition, PM2.5 levels rose even higher when she was:
at traffic lights: Denise's exposure to pollution increased both when she was stopped at a red light, when she was stationary and the vehicles around her continued to generate pollution, and when the lights changed to green and vehicles accelerated off. At traffic lights, Denise's exposure increased by 40.1 μg/m3 on average, which was 19 percent higher than her average exposure during a ride.
in tunnels: the air quality was worse here than on the open road, because of a buildup in emissions from vehicles passing through. When riding inside tunnels, Denise's exposure increased by 46.7 μg/m3 higher on average, which was 29 percent higher than during the overall trip.
While a small-scale experiment, it suggests that when the air polluted, sitting outside on a balcony would be better than sitting in traffic or riding along a road.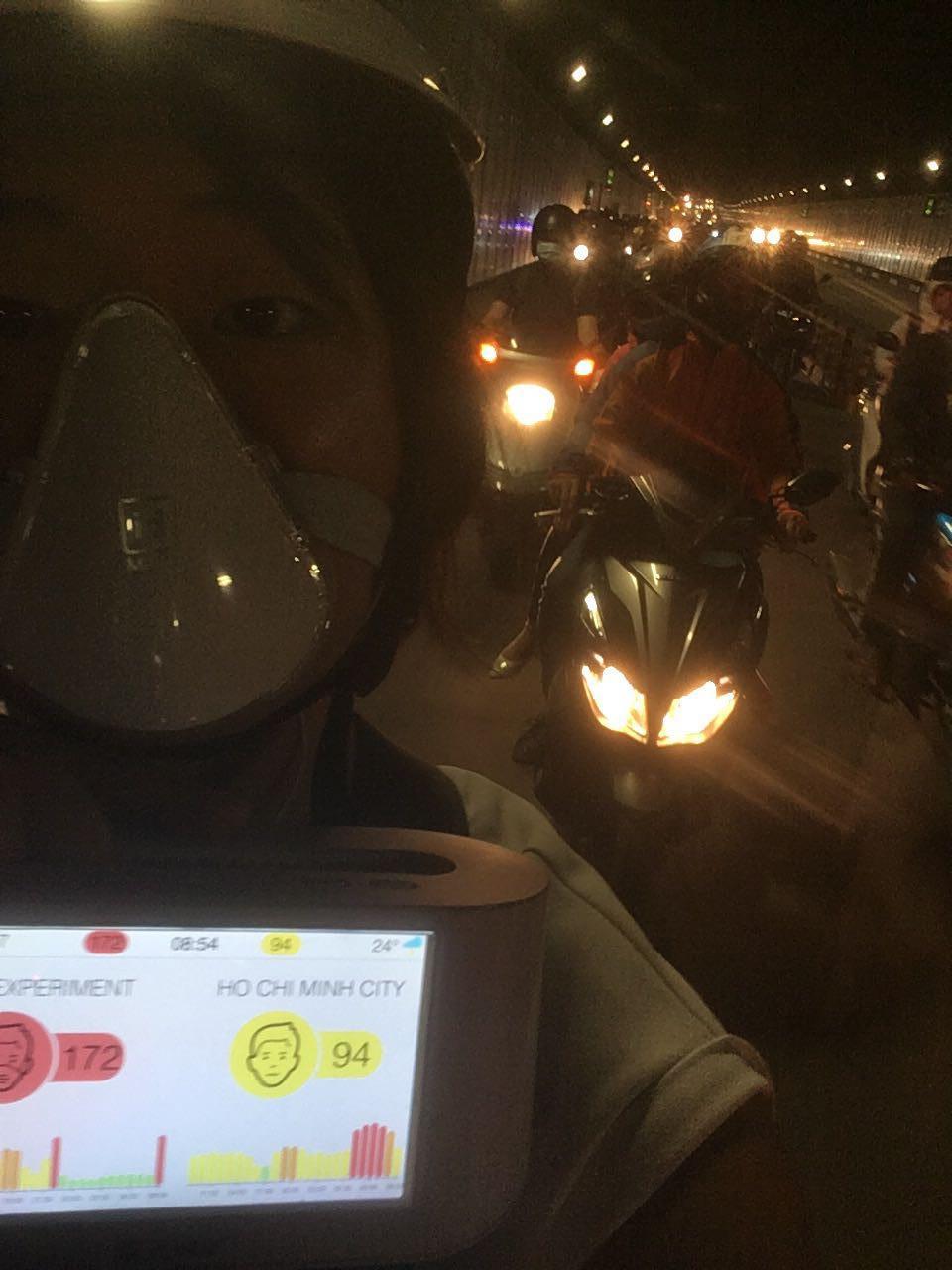 The AirVisual Pro compares the air being breathed in on the bike with that of the city at large
The nearly 9 million-strong Ho Chi Minh City is a moderately polluted Asian city. The city had moderate levels of air quality on average in 2018 and 2017, according to the IQAir AirVisual 2018 World Air Quality Report. It was well down the list of the world's most polluted cities, ranking at no. 452, below cities in India, Pakistan, Bangladesh and China, and Vietnam's capital, Hanoi, at 209.
PM2.5 is usually the main pollutant in the air at any given moment in South-East Asian cities like Ho Chi Minh City. Its small size – with a diameter of 2.5 micrometers or less – means it can remain suspended in the air for long periods of time and pass through the lungs into the bloodstream when inhaled. PM2.5 is associated with various short and long-term health effects, including an increased risk of premature death from heart and lung disease.
Despite the results, Denise says she hasn't changed her riding habits. She still has to get to work, after all.