Protester holds a sign which reads, "You choose." (photo credit: Andrea Comas of Reuters)
Madrid's newly elected conservative mayor, Jose Luis Martinez-Almeida, has done away with the city's clean-air traffic restrictions, collectively referred to as "Madrid Central." The move is a regulatory U-turn, and one that seems in sharp contradiction with the direction of other major European cities.
The "Madrid Central" restrictions, under threat, established city-zones for which high-emitting, fuel-inefficient cars were banned, and all other vehicles were required to pay admittance fees. The policy was introduced by the previous liberal mayor, Manuela Carmena, in an effort to comply with the European Union's clean air standards, following a warning that Madrid air quality was failing to meet it's promised targets.
New governor Martinez-Almeida announced Monday that effective July 1st, the City will no longer enforce the "Madrid Central" policy, despite data revealing its effectiveness at combating local air pollution.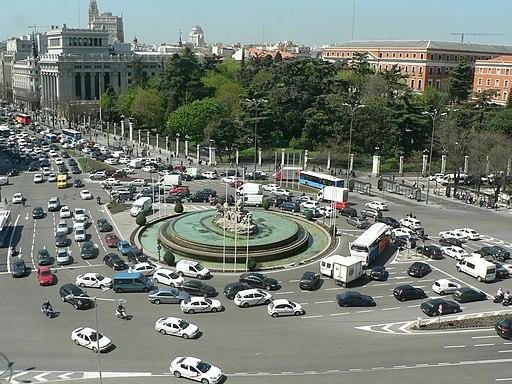 Madrid city center traffic, before "Madrid Central" had gone into effect. (Photo credit: Basilio CC BY-SA 3.0)
The decision has left many residents feeling frustrated, believing that the majority is not truly being heard, and worried that fragmented politics across the 5 main political parties is causing environmental issues to slip in prioritization.
In an effort to protect the "Madrid Central" policy, thousands gathered in protest on Saturday, June 29th (despite soaring temperatures that day, reaching 40 degrees Celsius). Protestors wore pollution masks painted with skull and crossbones, and paraded banners that read sentiments such as, "Fewer cars, better air" and "The new city hall seriously harms your health."
The city hall team reserves the ability to audit the system, and make amends by the end of September.