Sydney is suffering from unusually high levels of air pollution this week, due to planned burning activities nearby which have sent a thick cloud of smoke over the city. Contrasting with the city's typically much cleaner air, the Sydney smoke is expected to linger on into the coming days.
On Monday, Sydney air quality measurements reached over triple the Australian recommended annual guideline for fine particulate matter (8µg/m3), and in areas nearby including Liverpool, air pollution peaked at even higher levels, remaining over 35µg/m3 for almost a full 24 hours (equivalent to a health warning of "Unhealthy for Sensitive Groups" by US standards).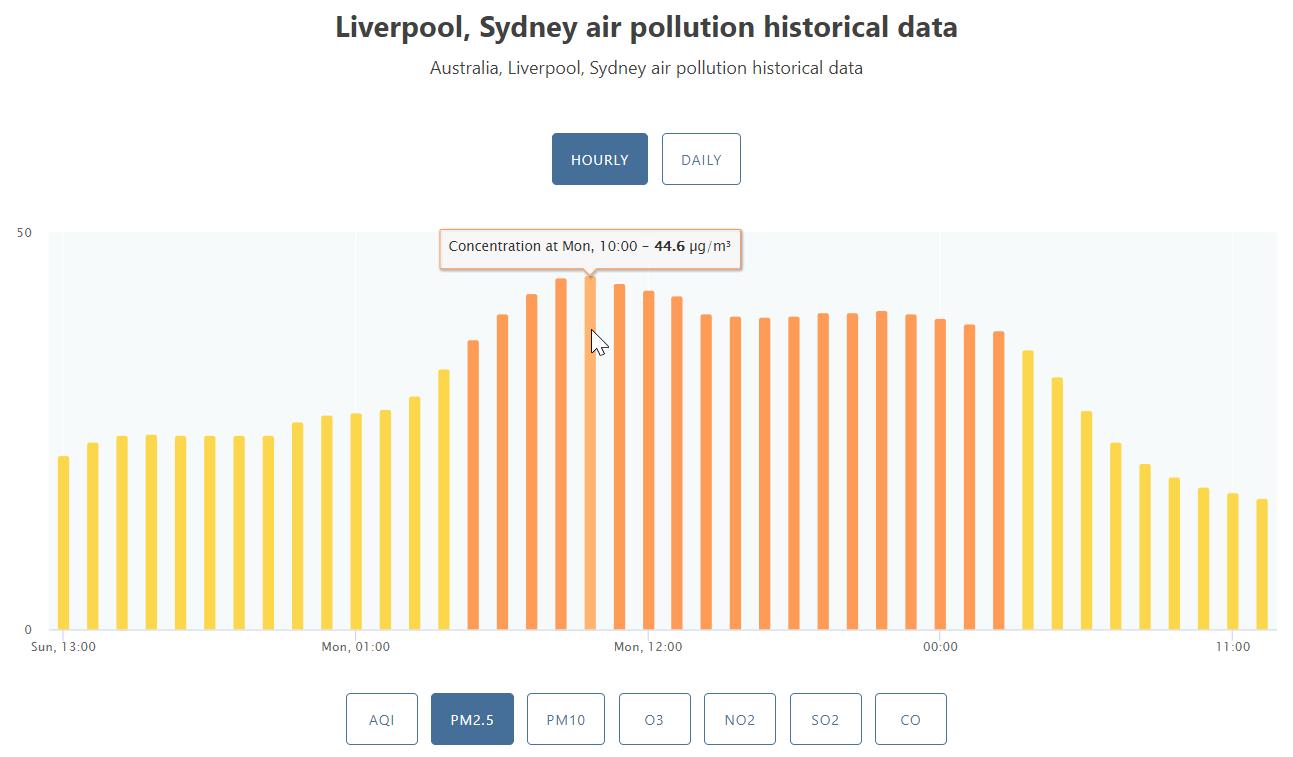 Air pollution levels remained high throughout Monday in the Sydney area
The smoke is being produced from hazardous reduction burns, or controlled burnings which are an established part of forest management. The burns are taking place to the northwest of the city, across the Southern Highlands and Colo Heights, while the largest area being burned is Heathcote, where a full 160 acres of the Royal National Park are going up in flames.

Sydney's annual PM2.5 air pollution level during 2018 was only 7.6µg/m3 - a fraction of the pollution currently hanging over the city
Unfortunately for Sydney, the weather conditions which make this a perfect time to carry out these burnings also happen to be some of the worst weather conditions to exacerbate the impacts of smog. Cooler temperatures, lighter winds and higher humidity help reduce the risk of wildfires spreading, and they also similarly make it harder for smog to disperse.
As Sydney remains under a cool air inversion, which helps to "trap" the smoke, and burnings are planned to continue during the remainder of this week, it is important for residents to follow air quality developments and take precautions to protect health. Stay up-to-date with local readings using the AirVisual air quality app, and when outdoor pollution levels are high, try to limit outdoor activities to reduce your exposure.