Mexico wildfires as observed by the Moderate Resolution Imaging Spectroradiometer (MODIS) on NASA's Aqua satellite
Mexico City declared an Environmental Emergency due to a prolonged period of unhealthy air pollution. Currently, the city suffers some of the worst PM2.5 pollution in the world.
A combination of arid conditions and rising spring temperatures have intensified the seasonal problem of brush and forest fires.
3,800 firefighters are actively deployed throughout the country, battling an estimated 100 fires a day, according to the Federal Environment Department. In total this season, 4,425 blazes have been recorded and 378,000 acres have been burned.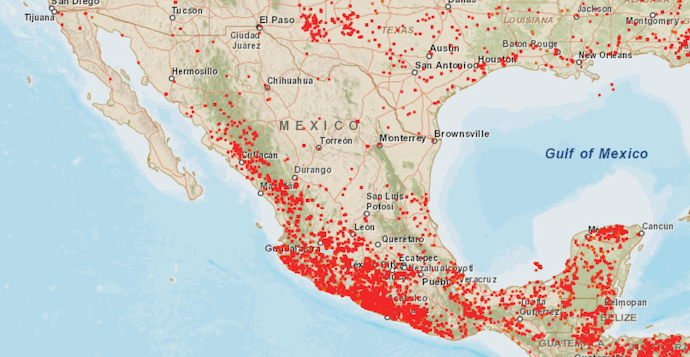 A map of active fires within the 48hr period between May 14 and May 16, as reported by the Fire Information for Resource Management System (FIRMS)
While causes for the fires vary, nearly 90% are estimated to have originated from human carelessness. Civil Protection Chief León estimates that 41% of Mexico fires are started by burns that get out of hand, while another 10% are from discarded cigarette butts.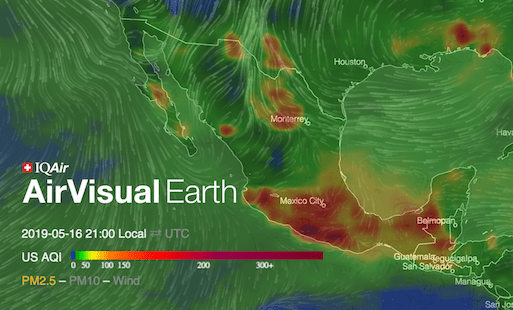 Visual map of real-time PM2.5 and wind as reported by IQAir AirVisual Earth on May 16, 2019
With the current "emergency" declaration, The Environmental Commission of the Megalopolis has advised that residents keep doors and windows closed, and gaps between door frames covered with a wet cloth. The Commission additionally recommends avoiding outdoor activity, using air pollution masks and air purifiers when possible, and limiting the use of emitting activities, such driving and cooking over an open flame.