Along the Liujiang river, in southern Guangxi province, China, a region famous for its karst hills and "Super Mario World" landscapes, a new kind of city is under construction.
Liuzhou Forest City, set for completion in 2020, will be entirely covered in trees and plants and powered by renewable energies, China's latest self-sufficient town.
In addition to 30,000 residents, the city will also be home to more than 1 million new plants and 40,000 trees. The vegetation will be integrated within, as well as on top of, residential buildings, hospitals, schools and commercial zones. The lush ecosystem is expected to provide numerous benefits to the community, as the plants have the ability to create natural noise barriers, encourage biodiversity, decrease average temperatures and improve local air quality.
Future view of Liuzhou Forest City. Photo courtesy of Boeri Architetti.
Because trees absorb CO2, they can be natural and cost-effective tools for cities to fight against air pollution. A study published by The Nature Conservancy (TNC) has suggested that particulate matter near a tree can be reduced by 7-24%, with a cooling effect of up to 2°C (3.6°F). A welcome change in the southern city with frequent high air quality readings.
It is this same use of lush foliage that is estimated to save London £133bn every year in air pollution removal (an approximate 13% reduction in PM10 levels), carbon sequestration and wasted rainfall, says a 2014 report by the London i-Tree Eco Project.
Liuzhou Forest City is commissioned by the Liuzhou Municipality Urban Planning Bureau, and lead by Stefano Boeri Architetti of Milan. Architetti is the pioneer behind the concept of "Vertical ForestING", which seeks to create a synergy between cities and nature.
Defining his concept as promoting the "environmental survival of contemporary cities", his buildings are vertical platforms for trees which reduce energy consumption and pollution, while providing a comfortable environment for residents. Architetti's Boeri Studio Vertical Forest in Milan, which is composed of two residential towers covering the equivalent of 7000m2 of forest each, won the city of Frankfurt's International Highrise Award, demonstrating its excellence in design and functionality.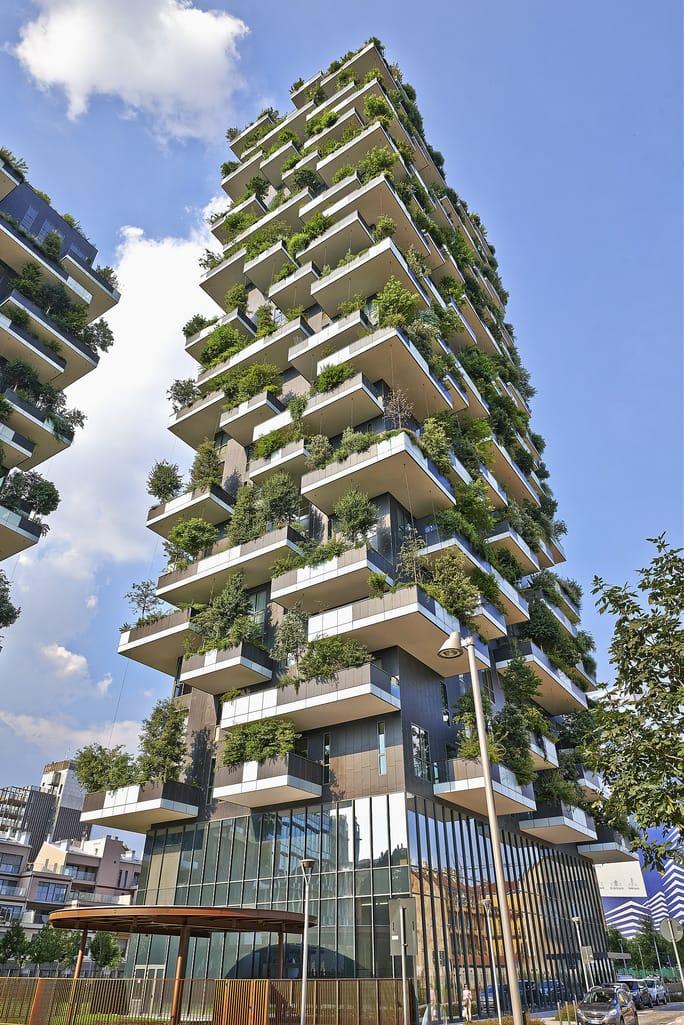 Vertical Forest Tower in Milan.
The Liuzhou Forest City, however, will serve as more than just a Vertical Forest. It has also been designed to be self-sufficient, relying entirely on solar and geothermal energy. Covering a surface of 175 hectares/acres in the north of Liuzhou, the Forest City will be connected to the center by a fast rail line servicing electric cars.
The Nanjing City Administration has also ordered its own Vertical Forest, composed of two towers of 200 and 108 meters each, holding more than 3500 trees and plants. The Nanjing Vertical Forest is scheduled to open ahead of the Liuzhou Forest City in 2018 and will be composed of a luxury-hotel, museum, offices, shops and restaurants.
Similar green building projects have sprung all over the world, from One Central Park in Sydney, to Agora Gardens in Taipei and the Park Royal in Singapore, to name just a few. Their success paves way for new eco-architectural innovations, with numerous benefits to the environment and quality of living of their residents. It's a small but solid step in the direction of aligning environment and economy for a healthier and happier Earth.