Victoria Island, pictured above, is a base industrial activity in Lagos. (Photo credit: OpenUpEd)
In cities from Krasnoyarsk, Russia to Lahore, Pakistan, air pollution data has often served as an important first step in tackling the air pollution problem.
Access to real-time, public air quality data is essential for its ability to generate public awareness, encourage protective measures, and drive action to combat emissions.
While the African continent faces numerous air quality related challenges stemming from rapid urbanization, limited infrastructure, agricultural burning and a reliance on high-polluting fuels, such as coal - the continent also has a noticeable lack of accessible air quality monitoring data, making it difficult to understand the severity of the problem and benchmark trends.
Earlier this month for the 2019 World Environment Day, however, Mr Abiodun Bamgboye, of the Ministry of Environment in Lagos, announced that the Lagos State Government has committed to deploying a network of six air quality monitors in order to fight local smog.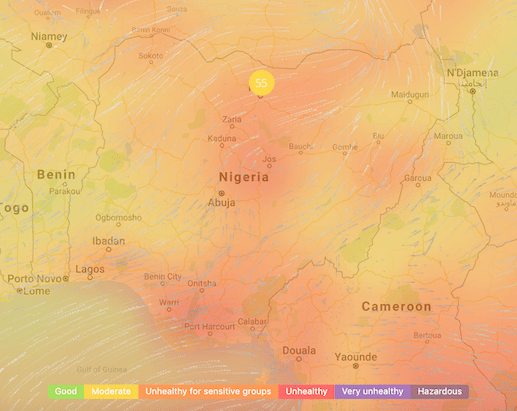 PM2.5 heat map of Nigeria on June 19, 2019, created using estimated satellite data. The yellow pin indicates the single air quality monitoring station, at present, located in Kano, Nigeria.
In addition to the new landmark monitoring network, the Lagos State Government will additionally continue working with local and international governments to develop effective programs and policies, aimed at combating air pollution in the state.