There is no let-up for Malaysians fed up of the haze. In recent weeks, Kuching's air quality has regularly been in the "very unhealthy" category on the US Air Quality Index, which means that everyone – not just sensitive groups like children and the elderly – may experience serious health effects.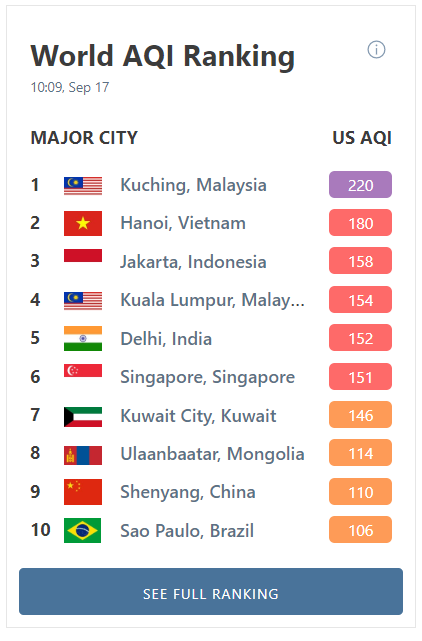 The capital of Malaysia's Sarawak province, Kuching, is at no. 1 again on Tuesday morning
Another area in Sarawak, eastern Malaysia, is on Tuesday morning experiencing even more polluted skies. Sri Aman's pollution is at hazardous levels, with those levels forecast to continue into the afternoon.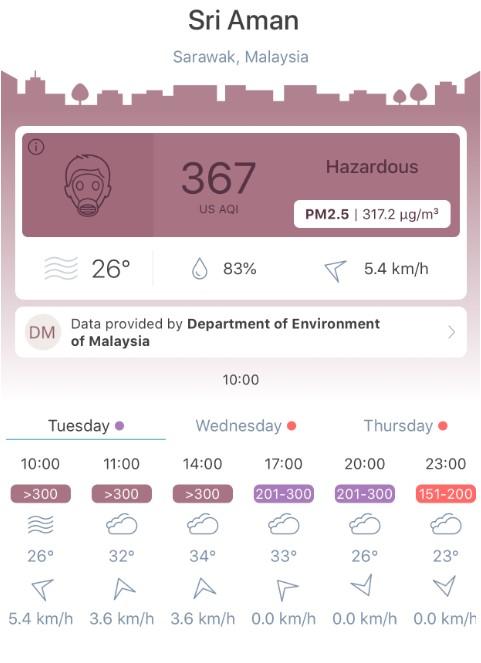 Air pollution in Malaysia's Sri Aman town in Sarawak is at hazardous levels on Tuesday morning
Malaysia has cancelled several flights in recent days owing to poor visibility, and some schools in Sarawak state, of which Kuching is the capital, have been closed at times.
The smoke is coming from forest fires on Sumatra and Borneo islands, where thousands of schoolchildren have been told to stay at home to avoid breathing in more smoke.
Forest fires are a seasonal problem in Indonesia, although this year drier weather has made them more acute. Many fires have been lit on purpose to clear land quickly for farming – as is the case in the Amazon.
The fires have also been affecting Singapore air quality, with the haze respecting no boundaries. The city state rose to no. 6 on AirVisual's polluted major city rankings on Tuesday morning.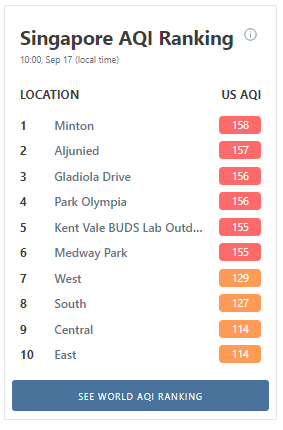 Several places in Singapore are experiencing "very unhealthy" air quality levels on Tuesday morning