(Photo credit: MEA)
On July 5th, India became the 65th country to join the United Nations Climate & Clean Air Coalition (CCAC), which seeks to monitor and reduce harmful air-borne emissions with a comprehensive solution-oriented approach.
The joining of the CCAC was pursuant of a commitment made by Prakash Javadekar, India's Minister for Environment, Forest and Climate Change, during the United Nations' World Environment Day celebrations last month. It marks a new dedication for the country, which faces significant challenges regarding air quality.
In 2018, India was home to 22 of the top 30 most polluted cities in the world, according to the World Air Quality Report. The top 15 most polluted cities of which all averaged an annual PM2.5 exposure more than 10X the WHO target of 10µg/m³, posing significant risk to local residents and the environment.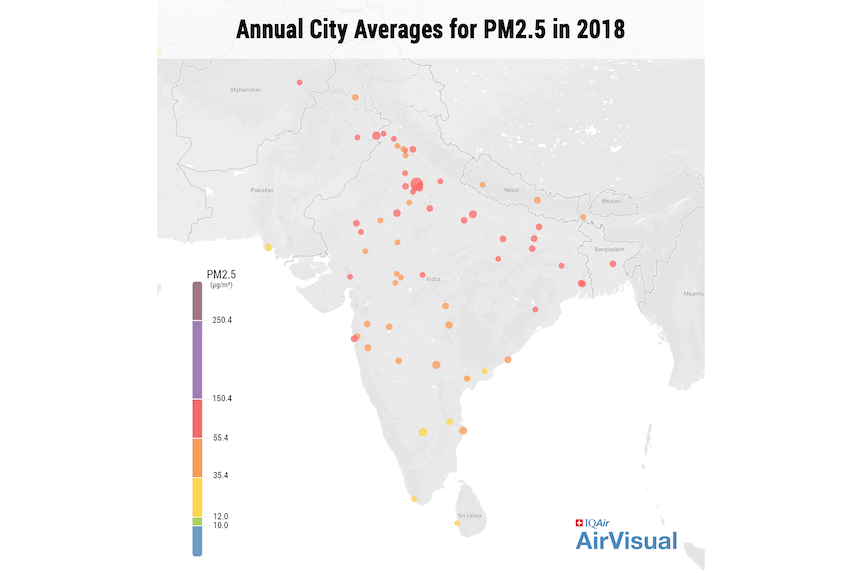 In 2018, not a single city in India, with ground-based air quality monitoring stations, met the WHO guidelines for PM2.5 air pollution.
Minister Javadekar explains that, "India will work with Coalition countries to adopt cleaner energy, sustainable production and consumption patterns, and environment-friendly transport, agriculture, industry and waste management to promote clean air." This will include advice on best practices for India's National Clean Air Programme (NCAP), which aims to reduce PM2.5 and PM10 air pollution by 20-30% by 2024.
The Coalition also seeks to benefit from India's unique experience and challenges, as well as use the collaboration to grow international outreach.
The United Nations CCAC has outlined 11 initiatives which together aim to prevent more than 2.5 million premature deaths from air pollution every year, curb global carbon dioxide levels and achieve the goals outlined in the Paris Agreement for keep global warming to within 1.5 degrees Celsius.