Cyclists protest in front of the Jakarta City Hall on 6 December, 2018 (Image courtesy of Gisela Swaragita, Jakarta Post)
In 2018, the Indonesian capital, Jakarta, observed an annual PM2.5 concentration average of 45.3 µg/m³, more than 3 times greater than the target set by the government (15 μg/m3), and four and a half times the guideline set by the WHO (10 μg/m3). The alarming figure made headlines, as the 2018 World Air Quality Report determined Jakarta to be the most polluted city in South East Asia*. Such data only reconfirmed what citizens already knew, air pollution is on the rise and taking a toll on the health of local residents, and the city's most vulnerable in particular.

Annual data as recorded by IQAir AirVisual reveals Jakarta's annual PM2.5 concentration rose by over 150% from 2017
On December 6, citizens within and supporting the Gerakan Inisiatif Bersihkan Udara Koalisi Semesta (Coalition for the Clean Air Initiative), came together to protest government inaction to improve city-wide air quality. The group has threatened that unless urgent action is taken in the next 60 business days (a deadline which expired March 1st), they plan to file a citizen lawsuit with the Central Jakarta District Court.
Already, nineteen citizens have come forward, prepared to become witnesses in the suit, should the case move forward to court.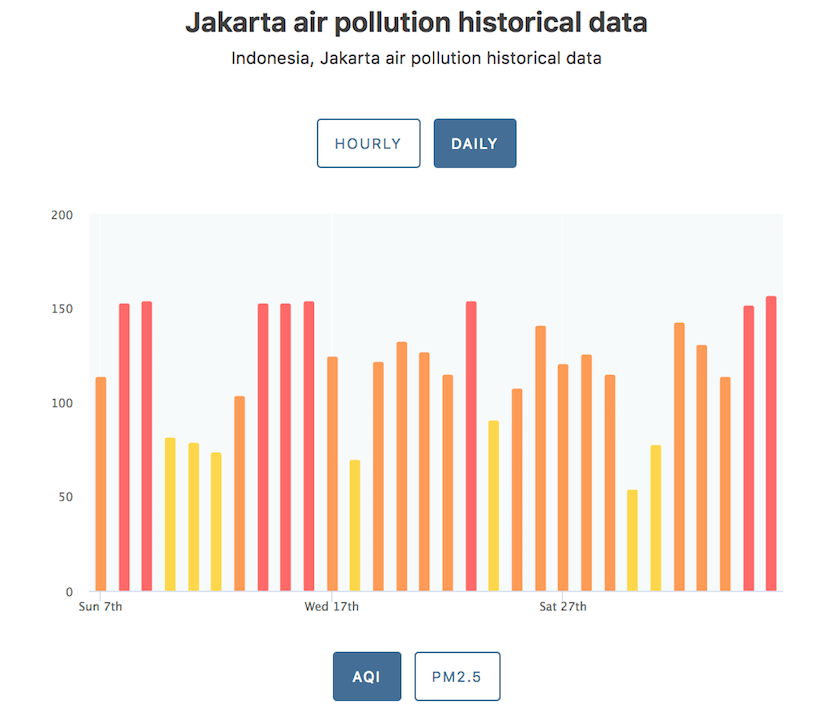 Daily averages of air pollution over the month of April 2019, show consistently high pollution levels in Jakarta
The Coalition has outlined 36 governmental regulations already in place, which need follow through. These include emission tests, cleaner-energy public vehicles, commitments to more green spaces, and laws against burning household waste.
Without effective governance in support of local laws, the nearly 10 million Jakarta residents suffer. While cheap energy and rapid growth can be achieved in the status quo, mobilized action as presented by the Coalition and supporters is required to ensure it's not at the high cost of human health and livelihood.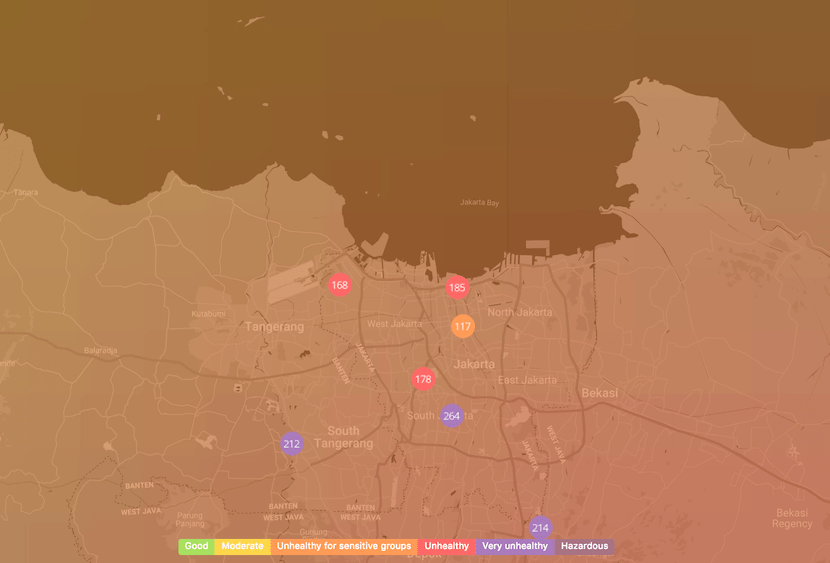 Jakarta air quality status, "Unhealthy" to "Very Unhealthy," at date of article publishing, 7 May 2019 (10:15, UTC-7)