The Earth's largest rainforest, the Amazon, is responsible for creating 20% of the planets' Oxygen - hence its label as "the Earth's Lungs." It is a vital and fragile ecosystem with such size and density, that its 'carbon store' plays a significant role in slowing the rate of global warming.
In addition to being home to several million species of plants and animals (roughly 10% of World's known biodiversity), it's also home to more than a million indigenous people, whose traditions and livelihood are also under attack with the environmental destruction.
As of Tuesday, 20 August 2019, the number of forest fires in the Amazon reached 74,155, a record high, since Brazil's National Institute for Space Research (INPE) began keeping records in 2013. In comparison, last year (2018) observed slightly more than 40,000 fires for the same time frame.
The INPE estimates that more than 1½ soccer fields of Amazon rainforest are destroyed every minute of every day.
In addition to the physical destruction, the resulting smoke of the current fires is so thick it can be seen from space. The AirVisual Earth map, which uses satellite data to estimate PM2.5 concentration in locations without ground-based air quality monitoring stations, reveals half of Brazil is breathing unhealthy air pollution, while neighboring countries including Peru, Bolivia and Paraguay have also been affected.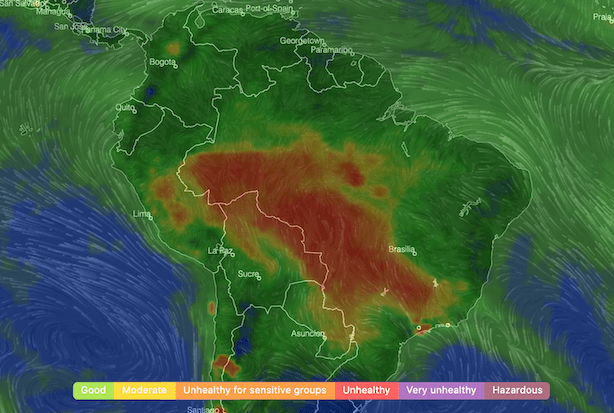 Heat mapped PM2.5 data, as reported by AirVisual Earth on 21 August, 2019, reveals the far-reaching spread of air pollution resulting from the Amazon wildfires.
Whilst wildfires are not uncommon during the dry season, many are deliberately started by farmers who seek to quickly and easily clear their land after a harvest - while others are started to illegally deforest land for cattle ranching.
Some blame this years abnormal surge in wildfires on Brazil's far-right president, Jair Bolsonaro. His actions, which include weakening environmental regulations, encouraging deforestation, exploring the Amazon's economic potential, and drastically cutting the budget for Brazil's environmental enforcement agency - are likely to have long-lasting, negative effects on the Amazon.
The World Wildlife Fund and a number of Environmental activists have urged Bolsonaro and the current administration to reverse current positions and protect the Amazon. If the rainforest reaches its point of no return, it will become a barren savannah which will no longer be able to support its plants and wildlife. Should this happen, the Amazon may begin emitting carbon, rather than be a key source of the planets oxygen - and as a result, further drive global climate change.