The aftermath of the Orpington bus fire (Photo credit: The Times)
In less than a year, the AirVisual Pro has been deployed as an outdoor air monitoring station in more than 40 countries, for some of which AirVisual Pros are the only data source. Citizens have chosen to take their local air quality into their own hands around the globe - discover where and why!
---
At 3:30AM on November 22nd local residents in Farnborough Hill of Orpington, UK near the local Green Street Green bus depot, woke up to the sound of several consecutive explosions. What is now believed to have started from a single bus's faulty electronics, quickly ignited nearby busses - setting off a cascade of erupting flare ups.
Fortunately the timing of the event, which occurred in the middle of the night, meant that the bus depot was empty at the time of the explosions, and no one was hurt. Still, 7 buses were destroyed to a twisted mess of charred metal frames, while another 4 were badly damaged. The total estimated value of the damage was placed at roughly $4 million BP.
The town, better known to some as a part of the London Borough of Bromley, sprung up in the 1930's as it joined the commuter belt with inroads to London jobs. It's picturesque and affluent neighborhoods made the November 22nd events unexpected and shocking to the roughly 20,000 local residents.
Luckily, Tim Webb who lives close to the Bus Depot, captured the pollution event on his publicly deployed AirVisual Pro. He had initially deployed an outdoor monitor out of interest and concern, noting that there were no others nearby. Tim would generally use the readings generated from the outdoor monitor to dictate whether his home windows should remain open or closed, and when to take care to reduce emission-generating activities so as not to exacerbate the problem.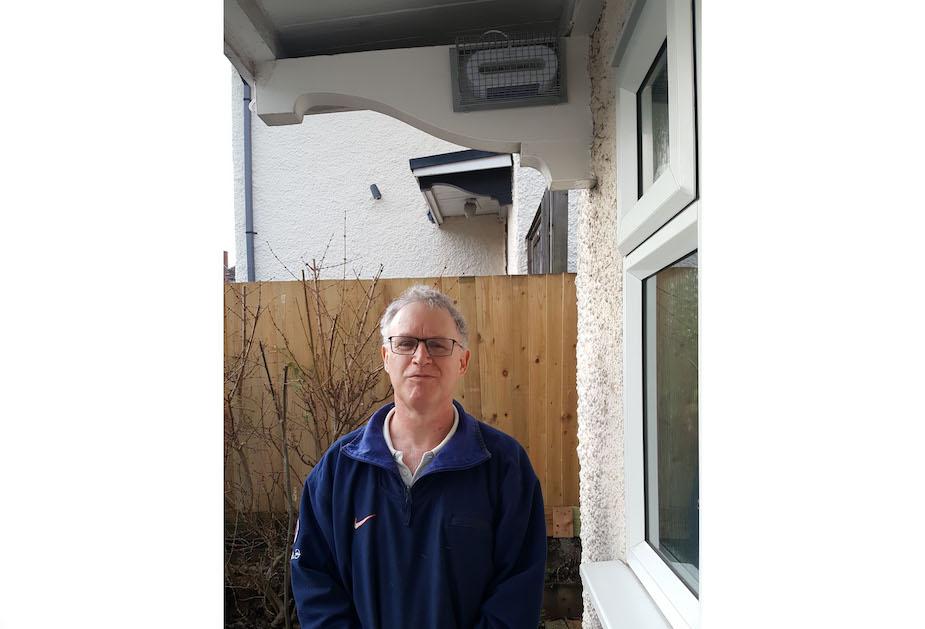 Tim, standing near his outdoor air quality monitor, the only ground-based PM2.5 monitoring station in Orpington, UK.
In the early morning of November 22nd, Tim had received alerts from the AirVisual air quality app and connected IFTTT-based mobile alerts, notifying him of the air quality spike. He noted poking outside, as such pollution events are generally quite rare in the small town, "we could smell burning rubber and plastics."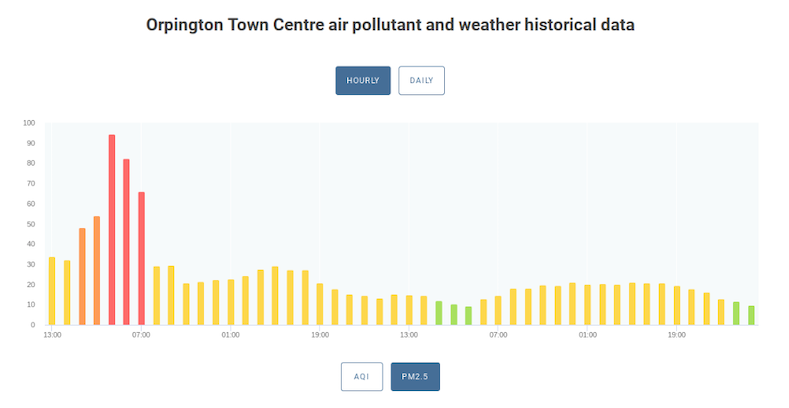 PM2.5 data from the bus fire, revealing its effect on the local air quality in Orpington, UK.
Seeing as Tim's station was the only air quality monitor recording the bus fire's effect on the environment, it was reported on by the local news, so to warn residents of the health risks in the air, further bringing more visibility to the station - and proving that air quality monitoring, in even clean air locations, can prove critically important.