Our contributors are individuals, organizations and companies who care about the air in their environment. They can choose to be publicly recognized as the source of the data on our website and
app
, and promote themselves and their missions on dedicated app contributor pages.
Want to join them?
Here's how, in 4 simple steps:
1. Choose a location
To set up your IQAir AirVisual Pro for outdoor public measurements, all you need is:
+ Access to an electrical outlet and a Wi-Fi connection.
+ An outdoor location sheltered from weather conditions, such as direct sunlight, rain, the wind. Well-suited places include a sheltered porch or terrace, under an overhanging roof or in an open garage.
+ Good airflow around the device
+ No higher than 10 meters
+ Away from localized pollution sources (e.g. cigarette smoke, BBQs)
2. Submit details of your device location and photos of its installation online
We will check that the set-up is suitable, and offer suggestions if any adjustments are required.
3. Data validation
AirVisual will analyze the readings for 1-2 weeks before publishing your device's data to the public air quality map.
4. Congratulations! You have moved your community a step closer to beating local pollution.
Now your neighbours and global air quality data enthusiasts can draw valuable conclusions about the state of your community's air and take preventative health actions if necessary.
What are you waiting for? Become an outdoor data contributor today, and bring your community a step closer to cleaner, safer air!
What difference can you make?
IQAir AirVisual's crowdsourced monitoring network has achieved some incredible victories in exposing air pollution in communities around the world. Since we started in 2016, citizen air monitoring networks have expanded hugely across different regions, from Kabul to Kuwait, Côte d'Ivoire to Qatar, and beyond. But the journey isn't over yet! See how you too can make a difference by adding your community to the map.
The challenge
Air pollution is the greatest environmental health hazard facing our planet. The World Health Organisation estimates that indoor and outdoor air pollution causes 1 in 9 deaths worldwide, with a staggering 92% of the world's population breathing dangerously polluted air. Yet, despite the extent of this global environmental health crisis and growing awareness worldwide, huge parts of the world still lack access to air quality information. Specific measurements are needed to reveal how pollution affects different areas, and how different communities must respond to tackle the problem. Air quality reporting is increasing in many places, but countless communities still remain in the dark about their air, and how to stay safe.
Now, access to air quality information is undergoing a revolution, thanks to an expanding global network of community activists who are taking local air pollution into their own hands. By deploying networks of newly accessible low-cost air monitors, communities are becoming empowered to protect health and also campaign for significant changes in their local environment – with some incredible achievements already under way.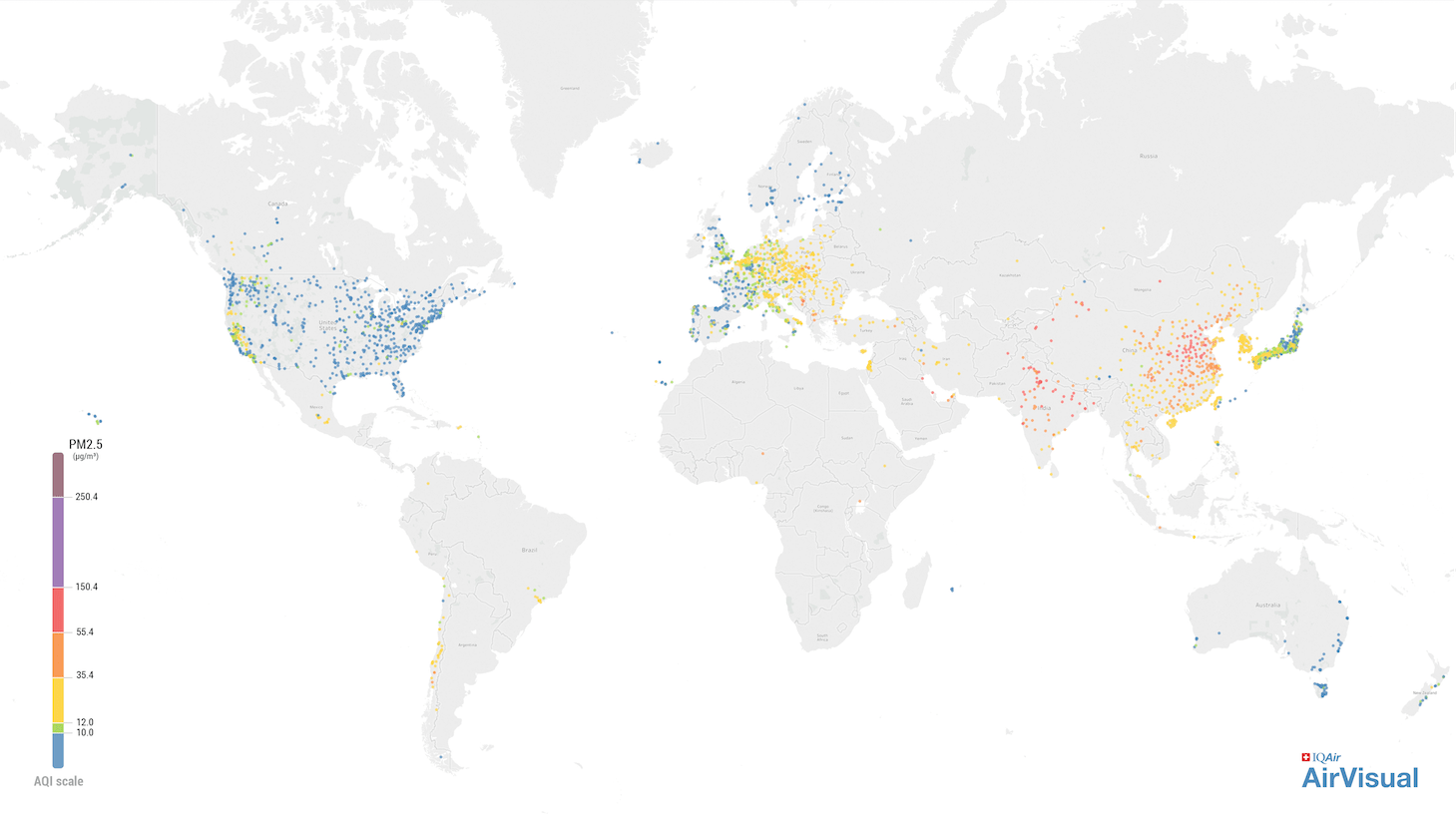 IQAir AirVisual's world air quality map. We have the biggest air quality dataset available, but there is still lots of uncharted territory yet to cover - 21 April 2018
How individuals and communities are changing the air we breathe
AirVisual air quality monitoring stations have provided live air quality information for hundreds of cities across
50 countries
since communities began deploying them in 2016. Many of these stations have become the first to reveal up-to-date local air quality conditions. In the city of
Krasnoyarsk, Russia
, one activist organized a city-wide monitoring network to reveal the air quality status during periods of smog known as "black sky mode". Their community platform has amassed a dedicated social media following, and their tireless campaign efforts have
galvanized commitments from local government
to act upon cleaning up the city's air.
In Mongolia, humanitarian aid organization People In Need has rolled out the first national air monitoring network to promote access to air quality information extending beyond the capital, Ulaanbaatar. This network has almost doubled the amount of live information available to citizens, and is now helping to track the impacts of coal-burning activities and promote health protection for vulnerable communities in response to previously unknown pollution levels.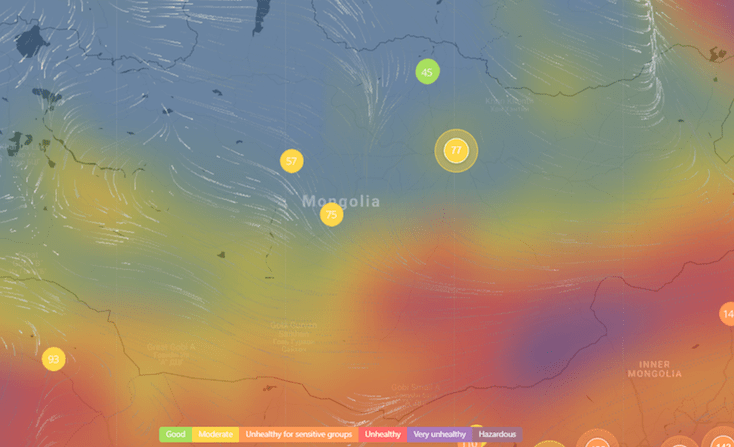 The growing network of monitors measuring air quality in Mongolian cities.
Meanwhile, in Thailand, numerous community members and voluntary organizations sought to better understand recent prolonged periods of heavy air pollution which led to school closures and other major disruptions, by deploying a high-density monitoring network providing detailed air quality information across Thai cities.
In particular, dozens of schools set up their own campus air monitoring stations to more powerfully safeguard children's health. This hyperlocal data has enabled staff to enforce actionable air quality policies, while also distributing air quality information throughout school communities.

A snapshot of the high-density network of stations now monitoring air quality in Bangkok. Numerous schools have set up their own monitoring stations to guide actionable air quality policies. It is the biggest air quality dataset available, but there is still lots of uncharted territory yet to cover - 21 April 2018
Elsewhere, from an ever-growing monitoring network tracking air quality in Pakistan, to networks in Hawaii Island and Kabul, Cote d'Ivoire to Qatar, community members the world over are sending clear signals that the global air pollution cannot, and will not, be ignored.
Abid in Pakistan________________ Kym in Hawaii______________ Igor in Krasnoyarsk

Now it's your turn!
Contribute data
Start publishing your Pro

Want to know more? Contact us and we will be happy to help you get your community online.
Note: Owing to Chinese regulations that prohibit the reporting of non-governmental data, no data from IQAir AirVisual monitors within China are made public.