Today, air pollution presents the world's 4th leading contributing cause of premature deaths, killing more than 7 million people annually. While its impact on everyday lives may not always be apparent, the global economy silently suffers an estimated 225 billion dollars annually from lost labor.
In light of this urgent challenge, for the first time IQAir AirVisual presents a compilation of the most recent data from 2018, to give a global overview of our planet's current air quality status. The new 2018 World Air Quality Report and interactive world's most polluted cities ranking is the first report of its kind to reveal the state of particulate matter (PM2.5) pollution in 2018. In assembling worldwide public air quality information in one place, the report highlights a widespread but unequal distribution of PM2.5 pollution and limited access to public information, and also pinpoints some areas of progress where access to data is increasing.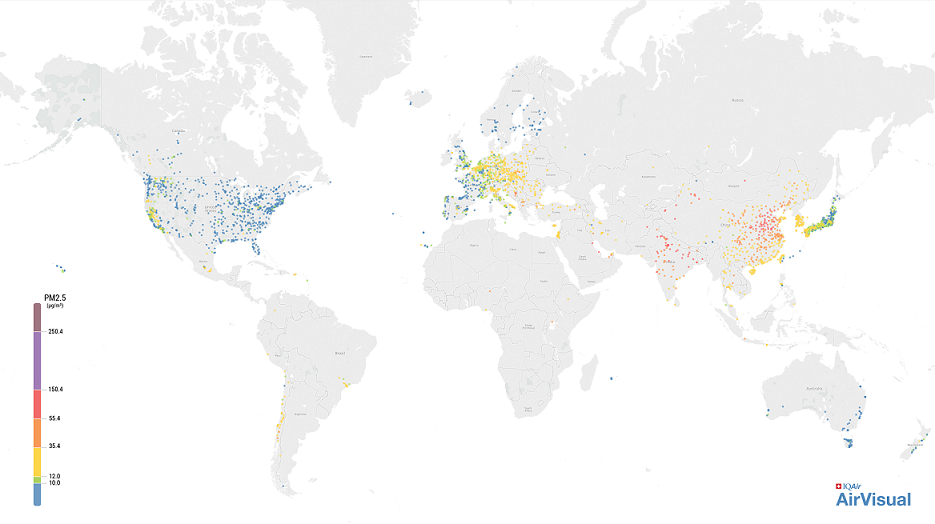 A global view of annual city averages for PM2.5 air pollution in 2018
The data is compiled from both governmental public monitoring sources in addition to public IQAir AirVisual monitoring stations. The report is the first to compile PM2.5 data entirely from 2018 for 3000+ global cities
Overall, the report reveals that the vast majority of the world breathes unsafely polluted air. 86% of countries with available city data failed to meet WHO exposure targets, while half exceed this target by 200+%. While concerning in itself, these numbers are expected to underestimate true global pollution levels, as countries without air quality monitoring resources are not represented, yet may often have high levels of air pollution which go unmeasured or unpublished. Pakistan, a country which lacked public, real-time air pollution data until 2017, is one example of this. New data contributed by a citizen-led network of PM2.5 monitors, included in this report reveals that the country ranks #2 globally, for highest recorded PM2.5 air pollution.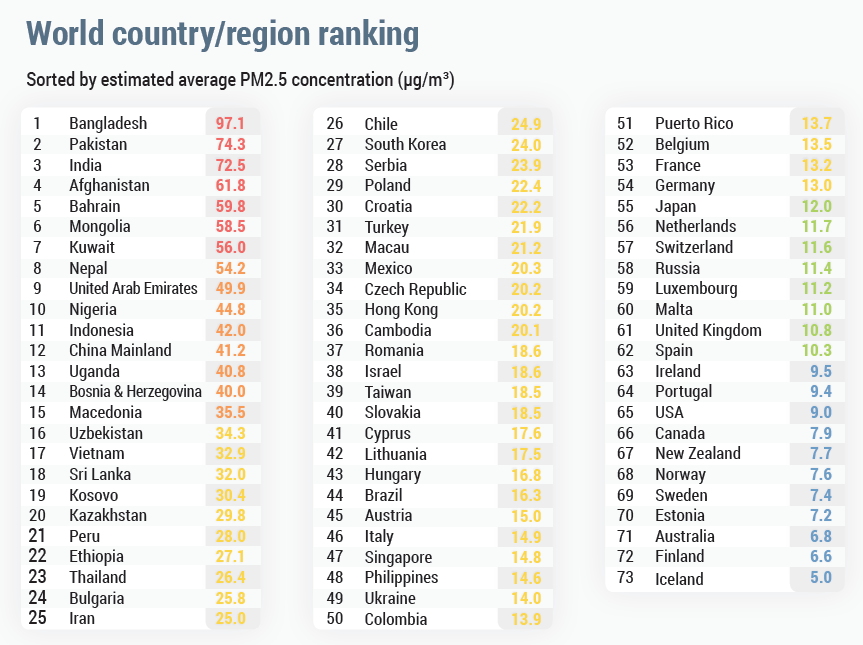 Country/region ranking, based on available data from 2018
At a city level, India is home to 8 of the 10 most polluted cities globally.* Capital Delhi, whilst ranked as the capital city with highest pollution globally, falls just outside of the top 10 cities overall, ranking 11th. It averages a PM2.5 concentration of 113.5µg/m³, more than 11 times the WHO guideline. For comparison, Capital Beijing averages 50.9µg/m³ for 2018, less than half that of Delhi.
Other key findings include:
- South Asia: out of 20 most polluted cities in the world, 18 are in India, Pakistan and Bangladesh.


- Southeast Asia: surrounded by the largest amounts of coal-fired power plants in the region, Jakarta and Hanoi are Southeast Asia's two most polluted cities. With Beijing's air quality getting better, Jakarta risks overtaking China's famously polluted capital soon.


- China: average concentrations in the cities in China fell by 11% from 2017 to 2018. Beijing ranks now as the 122nd most polluted city in the world.


- Europe: Out of 20 most polluted cities in Europe, 10 are in the Balkans - Bosnia Herzegovina, Macedonia and Kosovo.


- U.S. and Canada: While average air quality is good in global comparison, historic wildfires had a dramatic impact on air quality in August and November, with 5 out of 10 most polluted cities in the world during August found in Northern America.


- Massive populations, including on continental Africa and South America, do not have adequate air quality measuring infrastructure.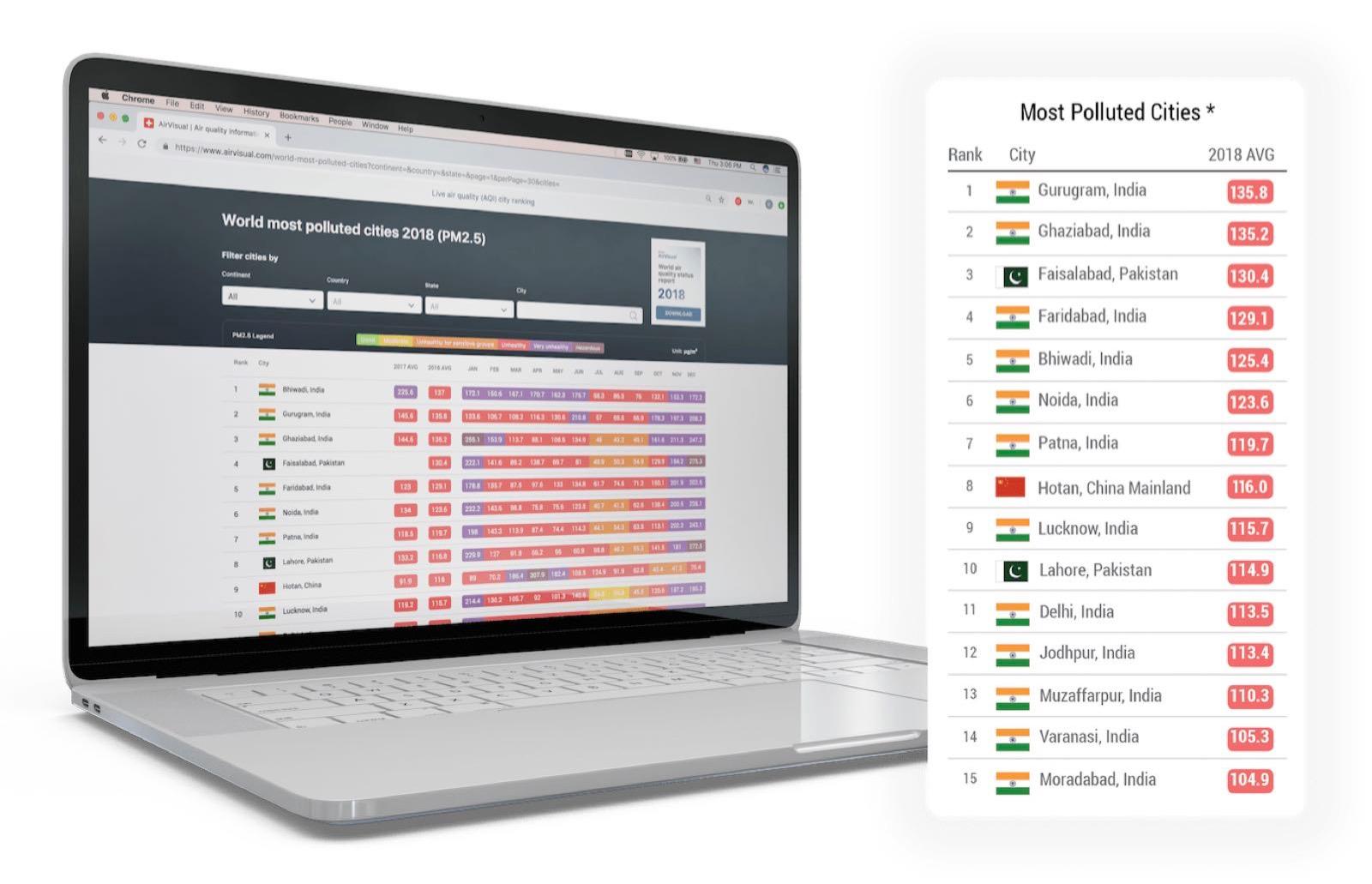 Explore the full interactive city ranking online
Explore the full world's most polluted cities ranking to discover whether your city meets the WHO annual PM2.5 exposure target, and compare it to other cities locally and nationally. Then, help us to raise the volume of this urgent global problem, by engaging in conversation and drawing awareness to the issue. On social media, join the conversation by tagging us @MyAirVisual or using the hashtag #OurEarthOurAir.
This recent data shows that we need to tackle air pollution NOW. With thousands of locations benchmarked in 2018, let's drive improvements for 2019!